The Little Fine Wine Company was founded in January 2018, to provide reliably delicious wines from authentic wine producers and a high level of customer service. With a difference!
We specialise in half bottles of wine (37.5cl bottles), compared to the norm (75cl). This is partly, we admit, so that we ourselves can taste, drink and enjoy better wines without spending a fortune. But, also to avoid opening bottles and then leaving them unfinished in the fridge as the week flies by, and to match different courses across a meal.
What we offer….
A flexible monthly subscription club brings you mixed sets of half bottles, curated by our Master of Wine and founder, Vicki Stephens-Clarkson. This is a good way to taste and drink great wines with variety, at fair prices, that you might not have tried before. If you like the wine, you can buy the half bottles again, or we can provide a quote for the 75cls and even 150cl (magnum) sizes where available too, at a competitive rate. Tasting notes are provided with a guide to the wine, the region and who made it.
There's also a compact range of our favourite and most popular wines that we hold in stock, in halves and some in larger bottles too if you need them. Plus a selection of gifts in halves and more, that we hope will delight and surprise your family, friends and clients. Finally, when we have a very special mixed case of halves, or a great deal from one of our producers, we have a seasonal offers section.

Our Wines
We sell delicious fine wines with plenty of flavour, whether they are delicate or stronger styles. We believe they taste noticeably better in quality than the average wine on the market and are all from authentic, genuine producers and particular wine regions rather than mass-produced wines that are blended across very large areas of vineyards. Prices are fair given the quality, and you can rely on a wine being worth that price rather than being advertised at a very high price and then offered at a deep discount. Our half bottles start from £6.95 per half bottle and currently go upwards to approximately £70 per half.
We'll always provide the producer's own website, which will match the label on your half bottles. While many others don't, we'll tell you where the wine is from, also known as its provenance.

Our Master Of Wine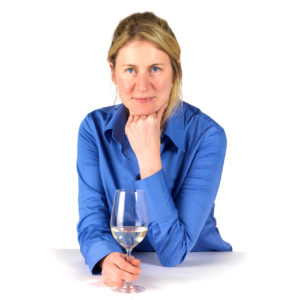 Our founder Vicki Stephens-Clarkson is one of a very small number of Masters of Wine, (at this count just 409 worldwide) and has been in the wine industry for almost 20 years. Most of this time has been spent as a professional wine buyer. Not a bad job at all! Finding and then importing wines to sell onwards to sommeliers, wine shops and private clients. But with over 50,000 wines in the UK already, there is an overwhelming choice; the key is knowing which wines to select, which is where we can help.

We hope you enjoy looking through the site. Thank you for visiting The Little Fine Wine Company and do check out our FAQs page, drop us a line at info@thelittlefinewinecompany.co.uk with any queries or if there is something you feel strongly about.
Thank you for taking the time to read this, and happy drinking!
Vicki & The Little Fine Wine Company